The following article was written for MyInd Makers. Pasting it here for reference:
A trio and a duo shared many enlightening thoughts over the past two days in "India's National newspaper", The Hindu.

The trio

- Jayati Ghosh (from JNU), Prabhat Patnaik(from JNU) along with Harsh Mander (who was a member of Sonia Gandhi's NAC) have penned "

A plan to revive a broken economy

" in The Hindu. The NAC was the super-cabinet during the UPA's rule. All policies were credited to "suggestions" from the NAC. Two days after the massive announcement of a 20 lakh crore package by the Prime Minister of India, the trio write in The Hindu and tells us that "….but this includes already allocated money of Rs. 6-lakh crore and monetary policy directives to banks and non-banking financial companies"
The Prime Minister was very explicit in his announcement. The 20-lakh crore package to revive the economy includes amounts from the announcements already made by FM & RBI and will include the new announcements by the Finance Minister. Why does the trio find the need to write an obnoxious sentence like "but this includes"? "But this includes" clearly implies that this 6-lakh crore is not of any use to help the economy. Do they make that argument in his article? No. Instead what is it that he proposes?
"

Food and cash transfers first".

They propose transfer of INR 7000 per month for three months per household and 10kgs of free grains for 6 months. I have always wondered why Sonia Gandhi, her family, her party and her NAC have this love towards direct transfer of money? And the only plausible explanation that comes to mind is that this is one of the ways to perpetrate a scam and fill the coffers.
You may want to ask me then – but this is Modi government so why would a scam happen. Here's where the trio come up with a brilliant solution. They want, wait for it, the central government to borrow from the RBI and transfer the money to the state governments who will then decide whom to give the money to! Am not kidding, here are their own words – "The required cash and food have to be handed over to State governments to make the actual transfers". Do you feel like standing up and do a slow-clap for this unparalleled brilliance? Do remember – the Congress is in power in considerable number of states.
And then they arrive at their favorite topic – the MNREGA program. They want the government to take away the limit of 100 days and make the program applicable to all through the year. So now they want governments to give 21,000 per family and also daily work for the whole of the next year? Not content with this idea, they moot another mind-boggling idea – "

introduce an Urban Employment Guarantee Program

". How should this be done? "Urban local bodies must take charge of this program and would need to be revamped for this purpose."
Oh! why not, that's just so easy to do! Let's wake up one day and "revamp urban local bodies"! I wonder why the government can't think of such easy solutions like "revamp" of our urban local bodies. Why isn't such sagely advice adhered to by the Modi government?
Who should be giving the jobs? Not just the government. They now want "work in the MSMEs" to also be included in this program. Don't scratch your head to understand how this will even work. It will work because these eminences have said so. Otherwise the economy is doomed!
Not content with the ideas they have unleashed, they go full throttle, lose total control and bombard us with more mind-boggling ideas - print more money, increase public revenues (Oh, where would we be if they didn't tell us this!), 2% tax on top 1% of population, and do something with IMF.
While these eminences focus on plan to revive economy after a large part of the plan is actually unveiled, we had two other eminences – Prashant Bhushan and Shyam Agarwal – tell us in another article that "

Guidelines issued by the Centre to the States under the Disaster Management Act are unconstitutional".

What bothers me most is the utter lack of creativity amongst this elite batch of eminent intellectuals. Can't they come up with more original thoughts than just "unconstitutional"? Just a couple of weeks back, Owaisi came up with this argument that was discussed here. And now since it doesn't seem to have gained enough traction, other members of the group want to propagate it. They make no new argument so there is no need for us to write the same rebuttal again. Suffice it to say that the entire country has been witness to how the Prime Minister and the Chief Ministers have closely coordinated, interacted and helped the country fight an unprecedented crisis. While they were busy doing actual work, the eminences found space in The Hindu to vent out their ill-gotten ideas and ill-conceived musings.
Meanwhile, the fortnightly magazine, Frontline (from the family of The Hindu itself), has a cover story ready for print in their edition for May 22. The story is titled "Dystopian Pipe Dream".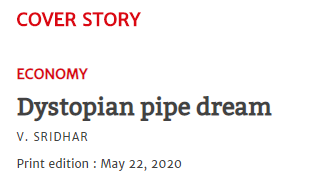 Their byline is extremely powerful – "

The reluctance of the Narendra Modi regime to extend fiscal support to those in real need of help during a prolonged lockdown suggests that it is promoting further concentration of capital. Dire consequences await the economy and the polity.

"
It is with profound sadness that we have to inform the editor of the Frontline that this article and the byline, though powerful, will now become extremely irrelevant when it goes to print on the 22

nd

of May. Since you folks anyways look for a way to blame Prime Minister Modi, you must now write an article blaming him for making your cover story irrelevant!