The following article was written for MyInd Makers. Pasting it here for reference:
A railway zone for Visakhapatnam was one of the key demands of the people of AP when the Congress party was trying to hurriedly get the AP Reorganization Bill passed. As usual, the Congress party told us that a new railway zone for Visakhapatnam will be given as part of the splitting of AP into two states. People of course assumed that it is now a mere formality. But then where there is Congress party, there is always a cynical twist. Here is what the Act promises (emphasis mine):
"8. Indian Railways shall, within six months from the appointed day,

examine establishing a new railway zone

in the successor State of Andhra Pradesh and take an expeditious decision thereon;"
The Act only promises an examination! So technically one can examine, come back and say it isn't feasible and that would still mean that the promise has been fulfilled!
Needless to say, a committee setup to examine this, came up with the recommendation that a new railway zone is not feasible! Infact, the UPA government rejected a similar demand in 2013 itself – again based on a committee report. Miraculously in 2014, the UPA created an impression that it is now ready to declare a special zone for AP, while still officially only promising yet another examination only!
The wordplay obviously didn't go well with the people. While the NDA government was continuously mentioning that the door has not been closed despite rejection by a committee, as mentioned in my earlier articles too, the people of AP were justifiably vociferous in their demand for a separate railway zone. Multiple representations to the central ministers have been given and multiple mentions of the same were made in Parliament too.
And in February 2019, Railway minister Piyush Goyal has announced the creation of a new railway zone – South Coastal Railway (SCoR) zone, headquartered at Vizag. He also announced that three divisions from the South Central Railway (SCR) will now be part of this new zone. The existing Waltair division will be split into two – one part will be merged into SCoR, and a new division headquarters at Rayagad (Odisha) will be created for the second part.
So here's the bottom line - Both the

South Central Railway

zone and the

East Coast Railway zone

lose administrative jurisdiction with the creation of new South Coast Railway at Vizag. Almost the entire state of Andhra Pradesh will now fall into one railway zone – the SCoR. The biggest gainer here is of course Andhra Pradesh. So you would expect all round cheer for the same, right? Now is the time to get stumped!
Here's where the TDP chief Chandrababu Naidu has yet again shown his true colors by spreading blatant lies in order to gain some sympathy. He and his son first started with the lie that by splitting Waltair division, AP stands to lose revenue of 6500 crores! No one knows from which thin air this number was pulled out in the first place!
First of all, all revenue from the zones goes into the kitty of Indian Railways, not to the state in which the zone is headquartered! Second, and most importantly, if the Waltair division is split into two, people must also remember that three big divisions have been taken away from SCR and merged with the new SCoR. Would one want to crib the split of one division or do you want to welcome the addition of 3 new divisions?
The second lie Chandrababu Naidu perpetrated is that there is no Railway Recruitment Board that will come up at Visakhapatnam. This is even more shocking because the press release clearly mentions that with the creation of this new zone, the Railway recruitment board will be setup in Visakhapatnam, and therefore benefit the people of AP a lot!
The heavily compliant media picked up on these two lies. They ran multiple programs on how Andhra Pradesh is losing out on revenue – a revenue that was never its own in the first place! They have yet again tried to create an impression that this zone isn't going to benefit AP. Don't believe me? Here is a snapshot of an op-ed in the largest circulated telugu newspaper. The headline screams "No Engine to the Railway Zone". However, from the same article, we also have these – "Almost entire AP will now come under one zone" and most importantly "Employment opportunities to increase".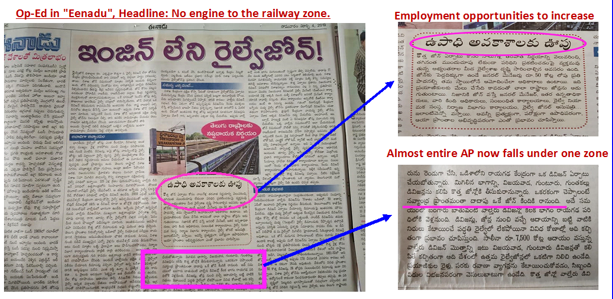 I am still at a loss of words as to how the TDP bunch continues to whine, crib and most disgustingly lie. With this promise, the NDA government has fulfilled 11 out of the 14 promises made in the AP Reorganization Act. We have discussed about all of these promises in an earlier article on this platform. The people of Andhra Pradesh deserve a better media that informs them all facts so that they can make an educated decision. Not a heavily compliant media that merely parrots Chandrababu Naidu's lies and confuses them.