The following article was written for ABP News. Pasting it here for reference:

At around the same time the Government of India began to talk about Smart Cities, the Telangana Chief Minister coined a new term for the city of Hyderabad – his Government would make it a "
Vishwa Nagaram
" (World City). As part of this, he announced that they will build new skyscrapers; new secretariat buildings; world class infrastructure and what not! His announcement enthused Hyderabadis, but in no time they found their enthusiasm misplaced. We are struggling to maintain existing infrastructure or build new ones, and many recent events stand testimony to why our enthusiasm evaporated so soon.
On September 15, 2016, Municipal administration minister of Telangana, popularly known as KTR,
tweeted
– "
Yes, hearing it from many of you; Focus shall be on repairing the heavily damaged roads in Hyderabad. As soon as the rains give us a respite
". The respite came to us only towards the end of September.
From about September 14
th
to Oct.1
st
– Hyderabad received its highest rainfall in the last 100 years. Yes, you read it right – the last 100 years. Roads were badly battered; low lying areas were flooded; buildings that encroached lakes were flooded. However, there were little or no power cuts, for which the government needs to be congratulated. The Greater Hyderabad Municipal Corporation (GHMC) took refuge in the fact that these are unprecedented rains and therefore the battering of roads is unprecedented.
Except that it is not.
On July 14, 2016, KTR tweeted the following: "
I share your anguish on status of roads in Hyderabad. Systemic long-term changes r being planned. Will ensure that repairs are done interim
"
But on October 22, 2015, the same minister
tweeted
that he is hearing "
Lots of comments on the plight of Hyd roads:1600km of roads in Hyderabad will be repaired & relaid by end December including the IT corridor
".
The then Mayor
promised
in August 2014 that all potholes will be filled in 90 days; Media has extensively reported road damages due to normal rains in
2014
,
2013
, all the way back to
2009
. In 2008, then Chief Minister of AP, YSR promised citizens that roads will be repaired once the rains subside. The people have seen sea changes in politics of AP since then, but the one thing that hasn't changed a bit – the worst condition of Hyderabad roads. The quantum of rain doesn't matter. Every single time it rains for more than 15 minutes, we have huge complaints of potholes on roads. The roads have earned the distinction of
being named
as "Killer roads", given the number of people dying due to potholes.
A press report says that GHMC claims filling up a whopping 53000 potholes, just from June to September, 2016! This was before the unprecedented rains. But how do we trust this number or any number, when the GHMC itself
agrees
to "erroneously stated as completed", "some" of the roads that show up on its website?
It really doesn't take a genius to understand that the
only problem
is here is the humungous inefficiency of the GHMC. Poor quality roads are laid; they get damaged for small amount of rains; potholes are filled; GHMC keeps on paying money to get these fixed; it is anybody's guess where this money goes – the circle is very vicious!
The regional media has done really well to highlight this plight. They have highlighted the
corruption
, the inefficiency, and the lethargy.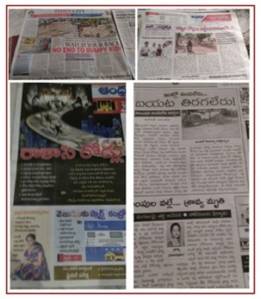 When asked about this and charges of corruption against the GHMC, the Chief Minister of Telangana, KCR
quips that
"if we have to fire people for being corrupt in GHMC, then there will be no one left"! If the CM himself is so helpless, what respite can the common man expect?
There is literally no way Hyderabad can lay claim to being a "
Vishwa Nagaram
" if this inefficiency in GHMC is tolerated.
When will the Metro Rail run?
One fine morning in November 2014, we see in the newspapers that Akbaruddin Owaisi is in a meeting with the CM and some officials, discussing the plan to re-design the Metro Rail route in the Old City of Hyderabad. A mini
political storm
was kicked over it, because other political parties were left out, and KCR was accused of pandering to the whims of the MIM.
KCR himself said that parts of the route required a re-design, and it doesn't matter to him how much was already spent on construction. He insisted that the L&T will have to change the design. Multiple meetings followed, with political parties and officials. L&T revisited, came back and said designs can't be changed. Things were back to staus quo – but it took a full year for this whole process.
The 72 km ambitious project was started in 2012 (In fact, much earlier, but YSR first gave the contract to Maytas, and we know what happened to Maytas!). First phase was promised to be completed by 2015. In March 2016, we were told the first phase will be
operational
in 2-3 months. We are nearing 2017 now. We have no idea when the project will be completed. Trial runs are going on at some places. Not even 10 stations are ready.
Along the route, we experience traffic snarls. The stations do not have any parking space, making it impossible for car/bike owners to ride the metro (if and when it gets fully ready). We feel exasperated just looking at the construction pace – and we are not sure whom to blame for this! The question on a lot of minds - Is > 5 years a reasonable time to get atleast a part to Metro to work? How will the dream of a "
Vishwa Nagaram
" be fulfilled if our big projects take so long to complete? And more importantly, impose so much hardship on the commuters?
How Swachchh is Swachchh Hyderabad?
The TRS government was one of the first opposition ruled states that picked up the Swachchh Bharat programmes in earnest. It started a Swachchh Telangana campaign, and also a separate Swachchh Hyderabad campaign too. However, huge piles of garbage strewn across bins is a very common sight in Hyderabad. The GHMC has made some efforts to cleanse them, but quite clearly they don't seem to be enough. Open garbage bins in very crowded places is quite common to find. Our garbage pick-up vans all have open tops – making it very uncomfortable for commuters whenever they pass through traffic.
More importantly, sanitation workers still get to work with bare foots and bare hands.
Minister KTR
tweeted
in May, 2016 –
"Honestly, this picture made me hang my head in shame. Reminder to take care of basics. Will work to find a solution
". He was referring to the problem of manual scavenging, but how fair is it that those who clean our dirt can't even get proper protective uniform in this day and age? Is this how we must be achieving the dream of Swachh Hyderabad/Telangana/Bharat? Our government hospitals are still in such abysmal conditions that one visit is enough to hang our heads in shame. This is a wake-up call to all urban and rural bodies in the country – why can't we really get our basics right before dreaming up of "Vishwa Nagaram" and Smart cities?
But then, what's great about Hyderabad that it can become a "
Vishwa Nagaram
" soon?
Power, needless to say, is a critical need for excellent infrastructure. We were reeling under a severe power crisis during 2011-14 time frame. KCR promised that this problem will be solved in 3 years. With active support from the Modi government, this problem was solved within an year (KCR himself acknowledged the center's support).
Hyderabad is home to a wide variety of IT sector and associated companies. It is because of this, that Hyderabad is also host to a very rich diversity of people from across the country. It is home to nearly 100 engineering colleges; many multi-specialty hospitals; is a booming economy; has an affordable housing market; and has very good connectivity to the rest of the country/world.
However, the leap towards greatness can happen if and only if the teething daily problems are fixed permanently. As of today, we are again just a 15-minute rainfall away to again get a tweet from the minister saying he understands our plight about bad roads!
PS: This is perhaps the story of many metros.